Dirt bike stands and ramps are two of those elements that you don't really think too much about when buying motorbike gear but are a key accessory for your day-to-day.
So here is our zero to hero list of dirt bike stands and ramps on Amazon and the possibilities they can give you when it comes to taking your bike wherever you go.
Want to drastically improve how you riding skills?
First, lets talk dirt bike stands
Every dirt bike rider, whether it's for motocross, enduro, hard enduro, or trail, needs a stand.
Even if you consider yourself the most amateur of them all.
It's not a question of professionalism, it's a matter of necessity!
Now, what you should know is that there are different types of dirt bike stands and some are better suited to your needs than others.
Let's go over some of the ones you can easily get from Amazon.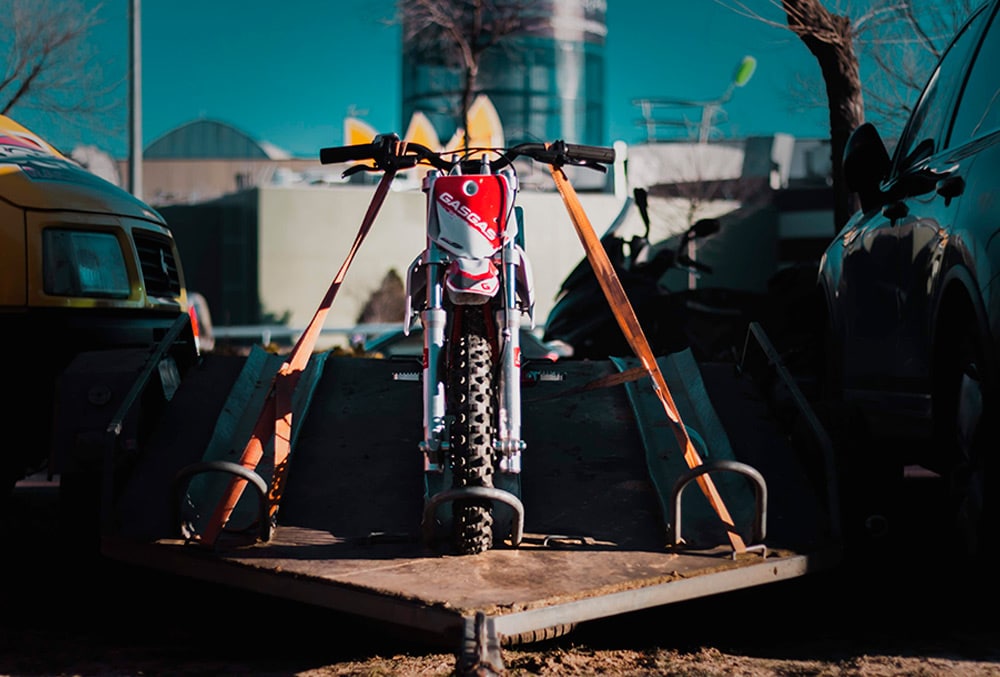 Risk adjustable dirt bike stand
A magnetic adjustable support of great quality without a doubt.
Risk is a super-proven brand in this type of product. It has a very simple mechanism on the sides, to raise the bike in a very easy and fast way.
Remember how important the leveling system is when you are deep down the mud in off-road terrains.
Among the "disadvantages" we can say that it is quite heavy.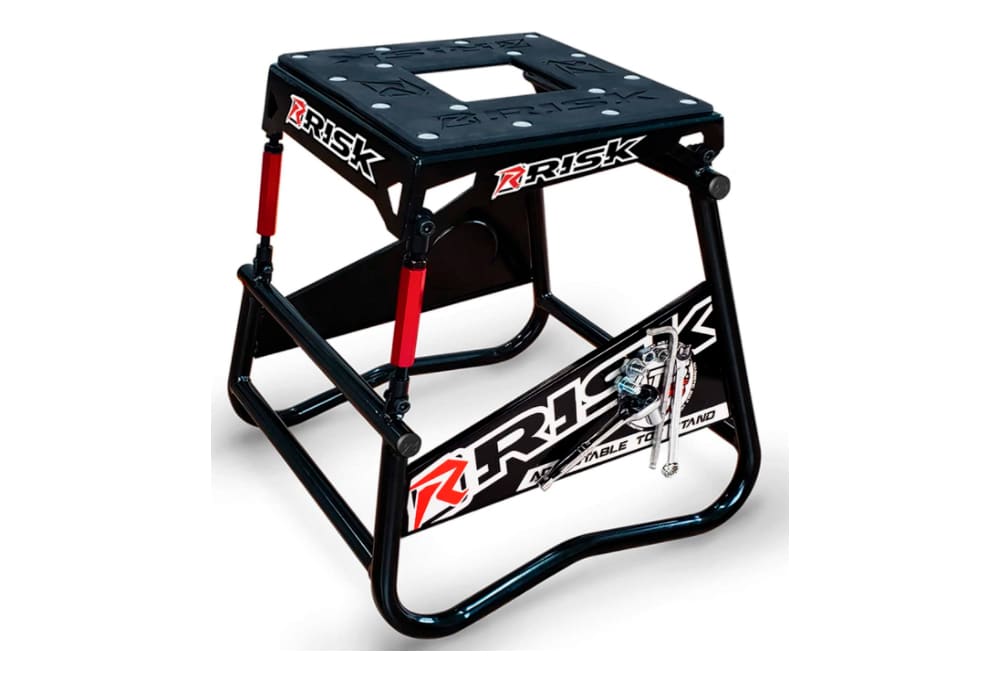 Risk Racing dirt bike stand
It is a very good option for riders who find it difficult to lift the bike vertically.
Let's say you haven't yet started with your strength training in the POWERING app; Well, this system is very practical for riders of short stature or lacking strength, and has a very reliable safety system so that the bike does not fall.
It also has an input for refueling.
Among the weaknesses of this stand, we can say that it is a bit big and impractical to store it in an average garage.
It is also not so stable on an ordinary floor, so we recommend buying a mat to place it on.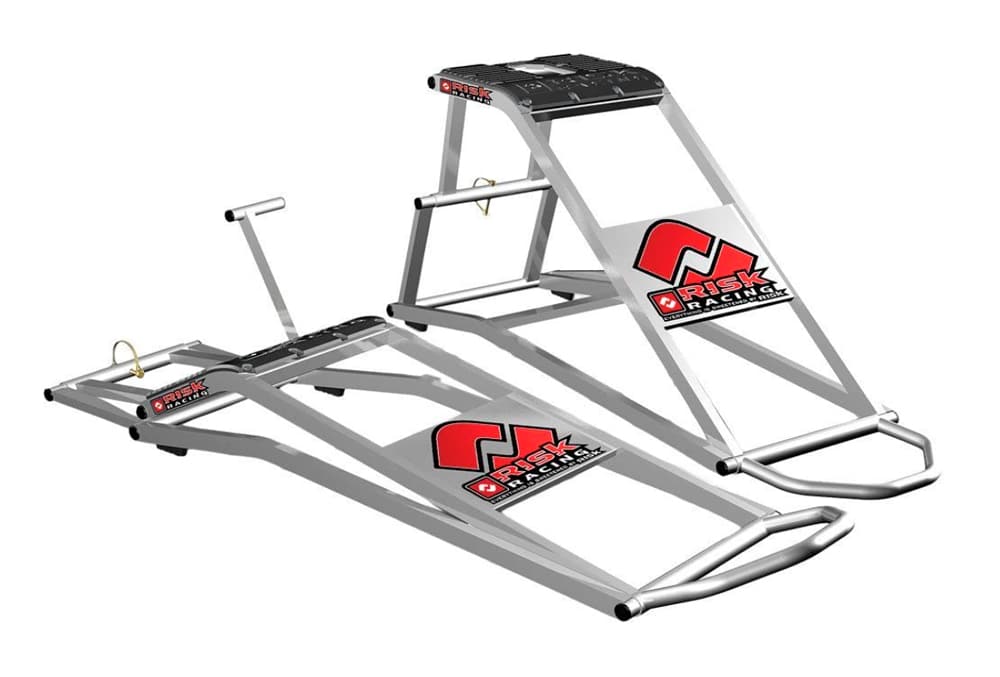 Matrix dirt bike stand
One of the best dirt bike stands. It has two positions and can hold up to 400 pounds.
It has an extremely stable base, larger than most of its competitors.
The rubber material it has on the top base (where you will place your bike) is quite durable, although, in the long run, it is not ideal because it will fade with time.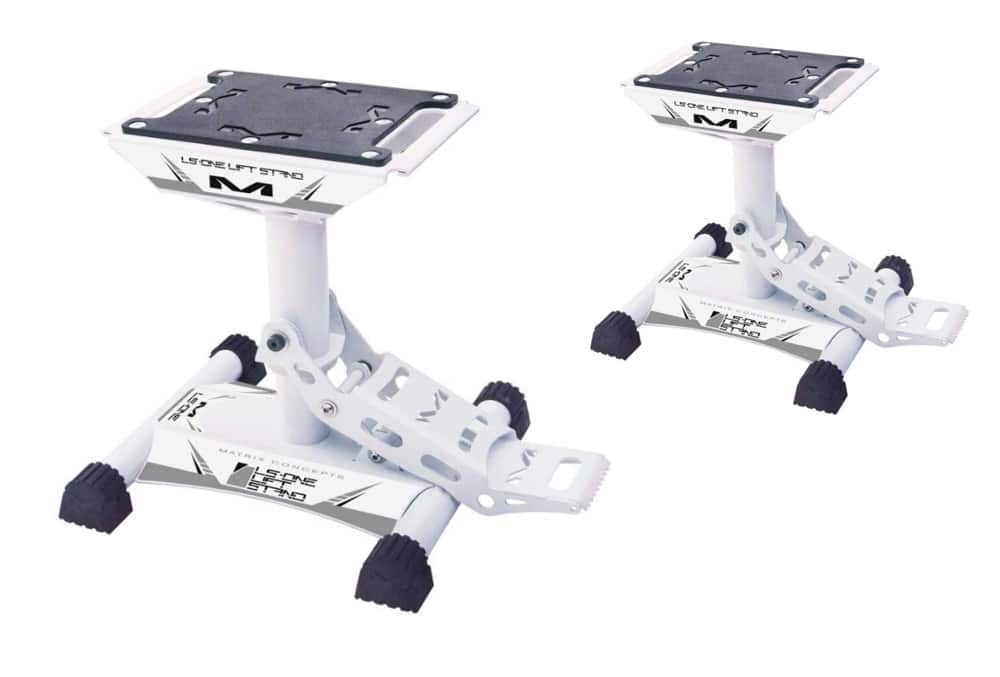 Acerbis motorbike stand
It is one of the most traditional dirt bike stands, but with the particularity that it is made of very hard plastic and reinforced steel bars at the top.
The main feature is that's very stable and has a key detail at the top of its design that allows the motorbike to be completely leveled, which is very interesting.
The stand resists up to 352 Pounds perfectly and it's lighter to carry than all-metal stands.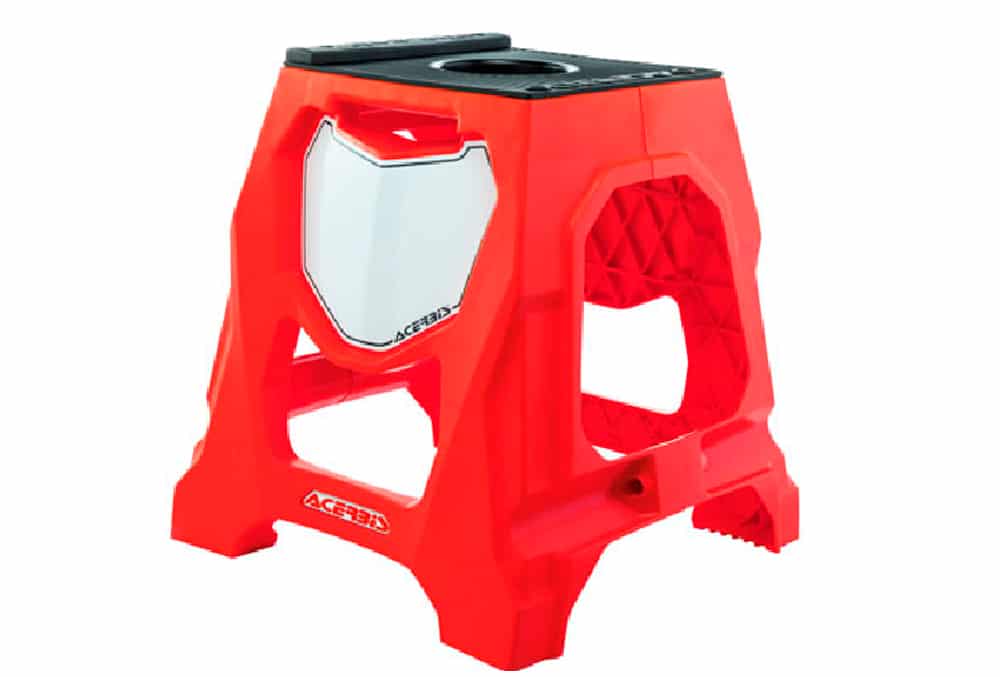 Now, let's talk ramps
LAS 10607 Steel Loading Ramp
We just love this motorbike ramp. It is very long once extended (2mts) and quite easy to adjust to any space when folded (1,27mts).
It also feels very light considering its tremendous resistance and weighs only 14kg. Plus the anti-slip material makes it much safer.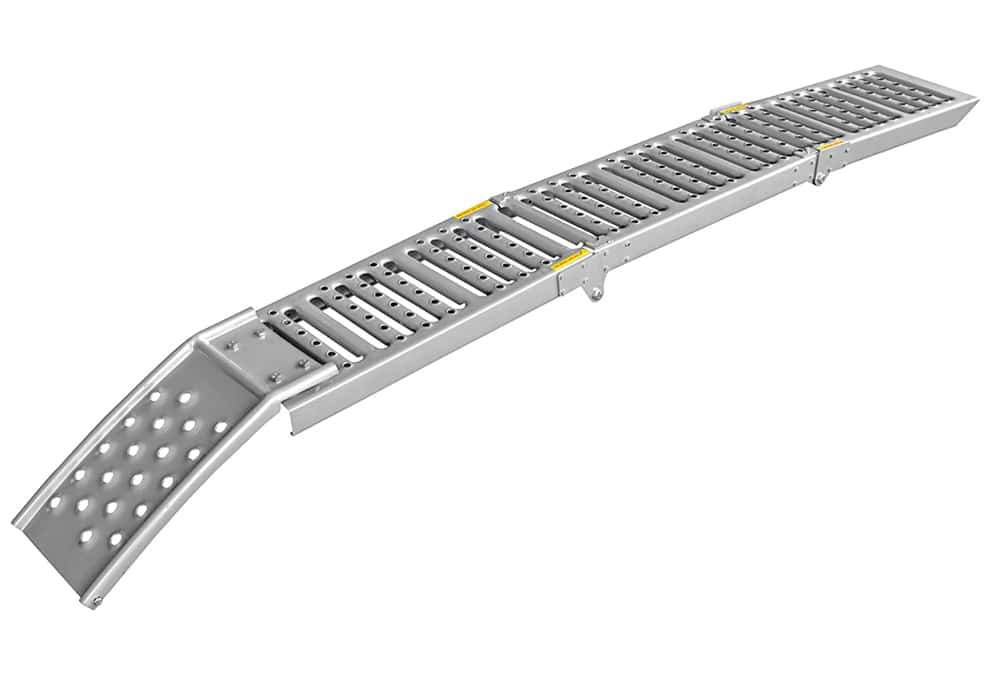 Universal folding steel loading ramp
Another folding motorcycle lift ramp, with a maximum load of approximately 500 pounds.
It won't take up too much space and will last a long time in your garage. If you are looking for a ramp to get your motorbike in a van we recommend it without hesitation.
We like it for its tremendous strength, toughness, and durability.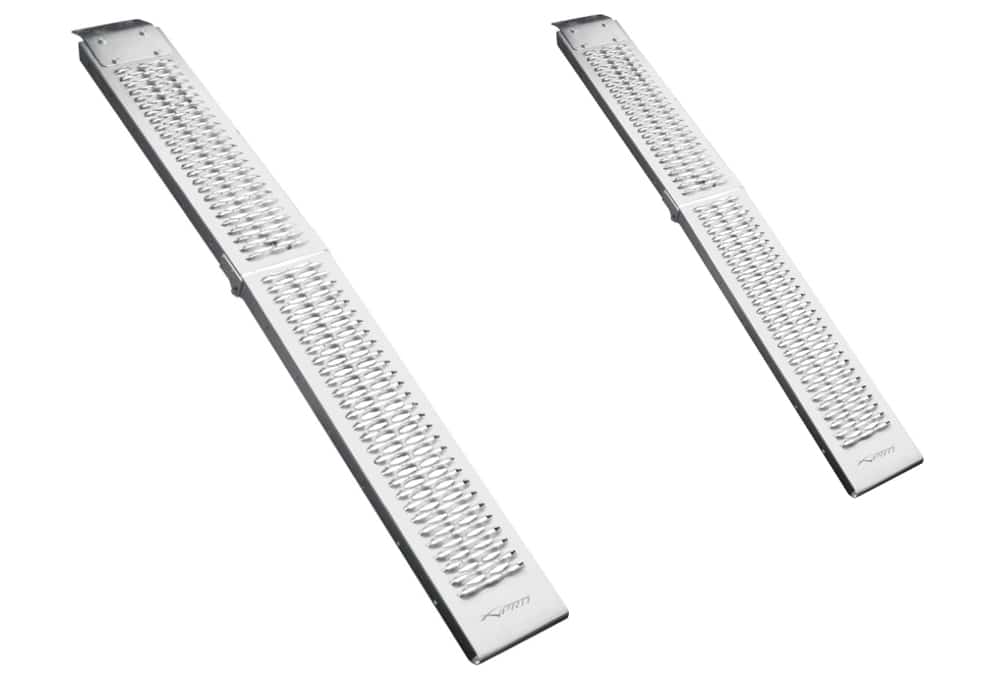 LILEI, 2 folding loading ramps
This model is very practical and can easily carry several motorbikes. The arch is super secure and that's great so nothing falls out of place. It's so strong that you can even make a garden tractor go up through it.
The maximum weight it can stand separately is 750 pounds and in combination, it will hold up to 1500 pounds. You can place it almost anywhere because it will only take up 45 X 11 cms worth of space. It is provided with a non-slip pattern so rain and mud won't be a problem, specially for hard enduro or rally riders.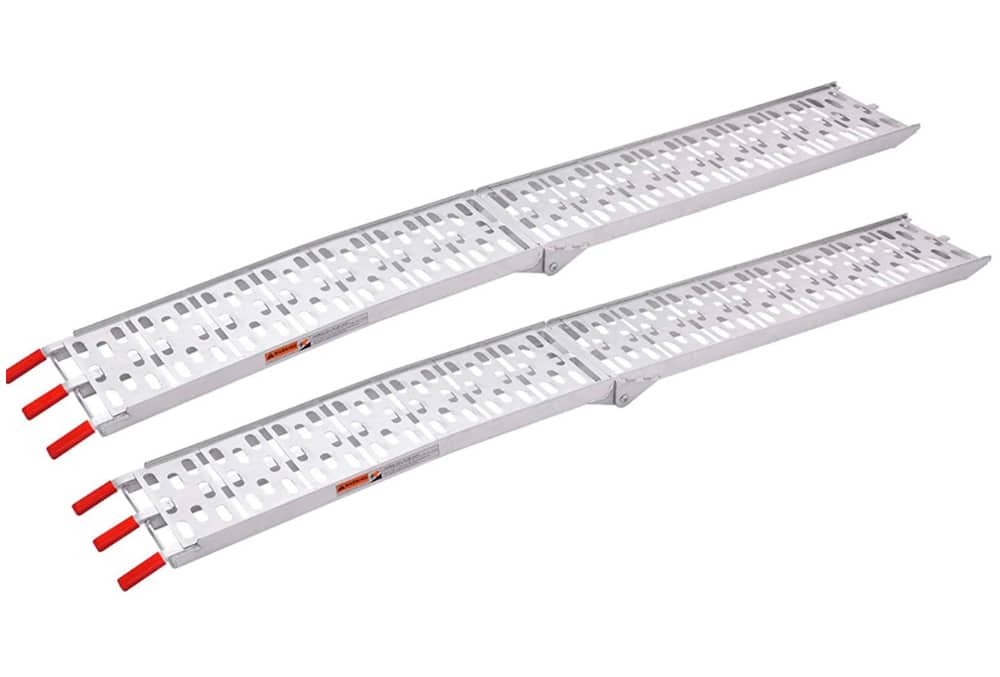 When we were kids we always dreamed of one of those ramps that we only see in competitions, to start doing some acrobatics with our friends, or to get used to the obstacles and learn how to practice MTB.
Plus: What about just a ramp for fun?
We didn't want to leave you just with the practical aspects of having a ramp.
Though with a completely different perspective, there is another kind of ramp you can get your hands onto, especially for kids and beginners who want to start feeling what risk is all about while keeping it safe.
We are talking flying here. And on a budget.
How much fun it would be for any rider to get all hands on deck in their garage and with very inexpensive materials, assemble a ramp for the kids (your inner child counts too)?
So here is a YouTube tutorial on how to build a ramp at home just for fun!